Rich, Dynamic Profiles
Rich, 360° Profiles for your People
Kalido gives a real-time comprehensive view of your organisation's talentpool. Employees can create rich and dynamic profiles by including their professional skills, personal skills, and social impact interests & accreditations.
Rich 360° workforce profiles
Employees can create rich 360° profiles that include their professional skills, personal skills, and their social impact interests, including Sustainable Development Goals. The power of AI adds a personality to the employees profile, making the profiles meaningful, providing a deeper insight into your employee's skills & interests.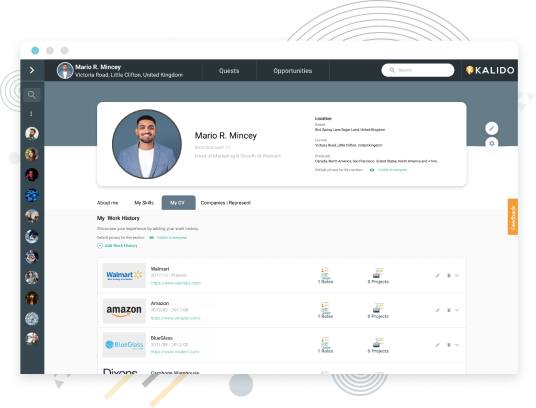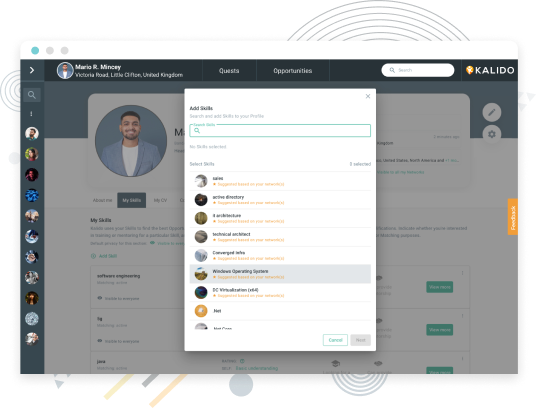 Fast, easy profile creation
Kalido is designed so that profile creation and updating is fast and easy. And wherever possible, Kalido can pull in existing employee data to prepopulate profiles. Users can seamlessly update their existing skills, experience, interests, recommendations, and current and preferred locations, to ensure a rich and up-to-date profile.
Skills competency ratings
Employees can validate the skills on their profiles by adding competency levels. These include their own self-rating, their manager's rating, and a Kalido rating which is based on the employee's past projects and experience. This gives a deeper sense of an employee's capabilities and improves the accuracy of opportunity matching.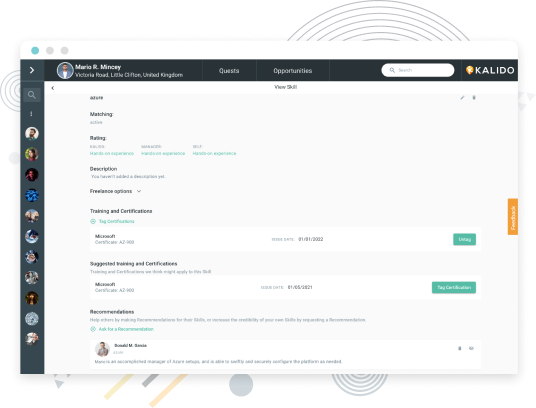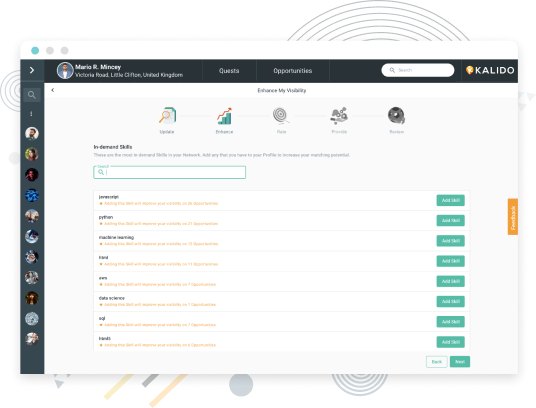 The rich and dynamic profiles on Kalido revolutionise skill discovery and opportunity matching for enterprises. Kalido enables accurate skill discovery and matching within your talent pool, resulting in improved productivity.
Real-time view of talent pool
Kalido gives you a real-time, transparent view of the talent pool in your organisation. This helps you to assess existing skills, and identify any skills gaps to fill to make your enterprise future-ready.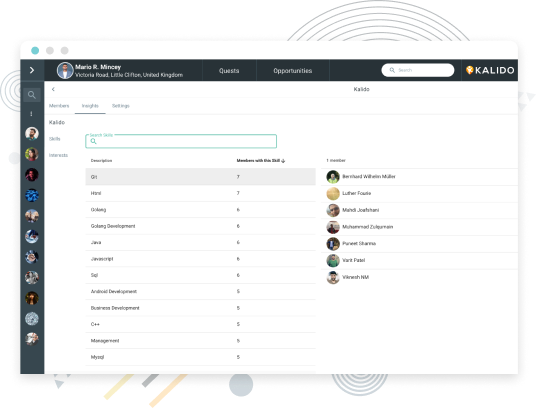 Increase Engagement
Boost inclusivity and engagement with smart collaboration & interest discovery

Single Source Collaboration
Collaborate smarter and faster with single platform communication tools

Internal Talent Marketplace
Re-imagine internal hiring to create a future-ready & an agile workforce

Alumni Connectivity
A natural extension and expansion of your skills and opportunity network

Fast, Easy Data Integration
Integrate your existing HR data and turn it from fragmented to uniform and actionable
'Right Person, Right Work' Talent Solution
Transform your workplace with Skill-focussed Mapping & Skill-focussed Hiring