The Kalido community is full of successful freelancers and entrepreneurs. From creatives and developers, to architects and public relations managers, to personal trainers and trained chefs, we'll regularly showcase talented users from around the world in our Self Starter series. Get personal insights, straight from the horse's mouth.
Today we meet Mia Bester, an experienced freelancer, graphic designer, programmer, and musician.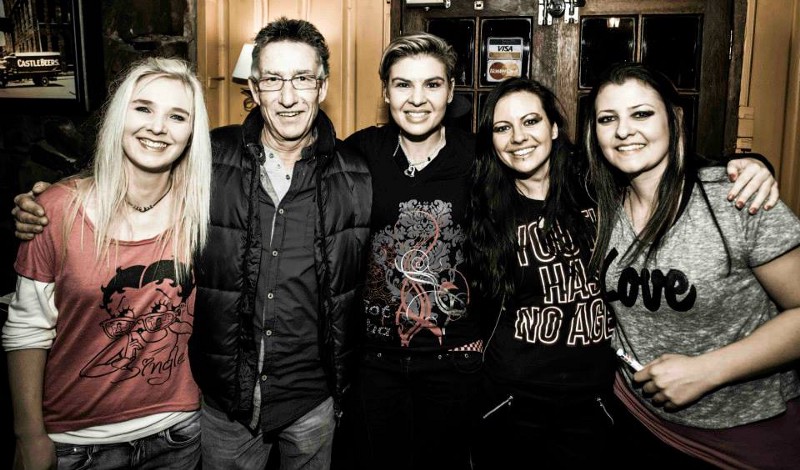 Kalido: What do you do and how do you describe yourself?
Mia: I'd say I'm a UI/UX graphic designer. I'm a freelancer, but at the moment, I have a permanent job at a company.
K: How did you get started?
M: Well, I've always been artistic, but I didn't start out as a designer. I actually studied to be a programmer. I was working as a programmer at a company that does internet solutions, web pages, content management systems, basically solutions for business. So, at this stage, my artistic abilities were only in painting. But then I started, you know…dabbling. Playing around with websites. Then I moved to England, and I was working as a content analyst. And one day, I saw an email going through, stuff coming back from a design company, and it just kept going back and forth, and they couldn't find a solution. So, I told my supervisor, 'Let me have a stab at this thing, because I have some design background'. And he said 'Ok, cool, do it'. And they loved it. So I ended up doing design for them.
So, I guess it was right place at the right time. Oh, and then I also started entering contests too. There are a bunch of design contests in Europe. And I won a few. And because most of them were for big umbrella companies, you end up getting a lot of clients.
K: Is that how you built your client base?
M: Yes. It was mostly from that exposure, from the contests. When I got back to South Africa, I had clients from Germany, and the U.S., and all over. And I guess that was it. I just…did it. You just have to do it. I have a friend who writes music for movies, and I was like 'How did you get into that?' And he said, 'You just have to do it.' If you want to do something — just do it.
K: What do you enjoy about what you do?
M: I enjoy the problem solving aspect of UX. Because you have a problem from business side, from the developer's side, from everywhere, so you have to find a way in between to get the thing done that the client wants, and also have a meaningful product for the user. And also, it can't look terrible, so it also has to be beautiful. So, you have this whole problem set that you have to solve.
K: What's your experience of being a freelancer? Do you have any highs and lows you want to tell us about?
M: Well, the high is definitely being able to choose when I work. Because I am completely, totally, and utterly, a night person. I am not a morning person. I have to set 7 alarms in a row to get me to wake up in the morning, and then I still miss it. So what I enjoy about freelancing is that I could wake up whenever I wake up, and work until I couldn't keep my eyes open anymore. And the next day, you wake up when you wake up. So you never, ever have to feel tired. I find it a bit silly, in today's life, if you look at traffic, everybody has to be somewhere at the same time. Every day. Why? Seriously. When with lots of jobs, you listen to people's job descriptions, what they do… They can actually be doing that from home. Now I actually need to go in somewhere. Whereas if people have their tasks, have their deadlines, and their work is done, I don't see why they have to be somewhere. So, the flexibility is definitely a high.
On the other hand, the good months have to carry you through the bad months. And the bad months do come. And you never know when it's going to happen. You cannot really predict, and you think certain months are low tide, and it isn't. So, you have to be very creative about finding ways to make money, or finding ways to get clients. And really sell yourself.
K: What is the hardest lesson you've learnt?
M: Never, ever do anything for a South African company without a deposit first. That was my lesson. The only times I've ever struggled to get money is with South African companies. I've never had that problem with anybody else, in America, or Germany, or Australia. I don't know if it's red tape or just process or what. I have cases where they haven't paid me, and it's been years and years. One person says call this person, the other person says call this person, this person doesn't work there anymore, that person doesn't know what you're talking about, so I've had that. So, the biggest lesson I've learnt is: Do not do anything without a quote sign-off, and a 50% deposit.
K: As a designer, you often have to partner with other professionals, like developers, or writers, or photographers. How do you find the people you need?
M: I love creatives, so I'm always surrounded by creative people, and then one person introduces you to someone else, and that person introduces you to other people, and you end up knowing a lot of people.
As for clients, a lot of my international clients I meet on the design contest websites. I'll do some stuff they like, and then they'll contact me directly.
K: Has being on Kalido helped you?
M: Oh yes, I've had lots of responses from people on Kalido. Lots of them were from countries like India. I also have a friend who's gotten quite a few connections for her photography, and she's going to use Kalido now for real estate. So, it's definitely helped.
K: Lastly, how would someone match with you on Kalido?
M: They would say they need a graphic designer or UX designer with experience in Illustrator. Or somebody just to jam with. I'm in a band, and I play guitar and the drums, so it's always nice to jam with someone new.